Year 2021 for Young Academy Finland has been full of online meetings, hybrid form meetings, networking − and continuation to huge success of the Meet a Researcher service.
New members, board and personnel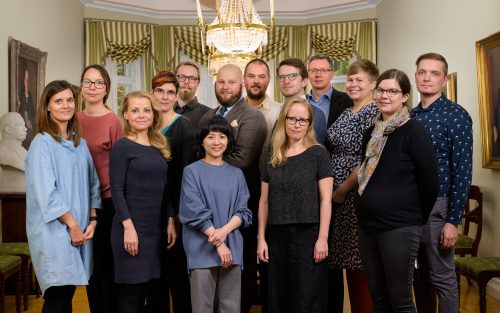 At the end of the summer, YAF got 20 new members for 2021−2025 and, at the same time, 18 members became alumni. During the academic year 2021–2022, we have 81 members and 34 alumni. Our general meeting on Sep. 24th accepted our plan of action for 2022 and selected a new new board. Dr.Sci (Tech) Jenni Raitoharju from the Finnish Environment Institute continues as the Chair.
Also our personnel has changed since last spring. PhD Riikka Hiltunen was selected as our new Science Secretary and has been managing our activities since October after Johanna Ketola returned to be a full-time researcher. Already earlier during the summer, MA Kim Krappala was hired to coordinate our Meet a researcher service.
International meetings
In May, Young Academy Finland participated in two international conferences. The Council of Finnish Academies hosted the annual meeting of ALLEA (ALLEA = All European Academies). Young Academy Finland was actively partaking in the programme. Our board member Mona Mannevuo examined the possibilities and risks of interdisciplinary research in her presentation "Interdisciplinarity as a strategy". Our chair Jenni Raitoharju presided over a breakout room session that similarly examined interdisciplinarity from the perspective of early career researchers. At the closed Business Meeting on the following day, YAF led a breakout room that discussed collaboration between young and senior academies on national and European level.
In the annual meeting of the European European Network of Young Academies, hosted this year by the Young Academy of Scotland, young academies shared their best practices and recent innovations. Read more about the inspiring examples of our sister academies.
In September, our international action group attended Online Young Academies Meeting, which gathered 75 members from different young academies around the world.
Huge success for Meet a Researcher service
In January the Young Academy Finland presented for the first time its new Meet a Researcher video clip targeted for international audiences. 
The Meet a Researcher service kept getting more and more popular. During the year we have organised almost 400 virtual visits to schools. During 2021, the service has reached ~9000 students (2000 students in 2020). Teachers' satisfaction has also increased from 85% to 95%. Also, the pool of researchers has grown and now contains over 350 researchers.
Young Academy Finland wishes relaxing and peaceful Christmas holidays to all its members, alumni, and collaborators!